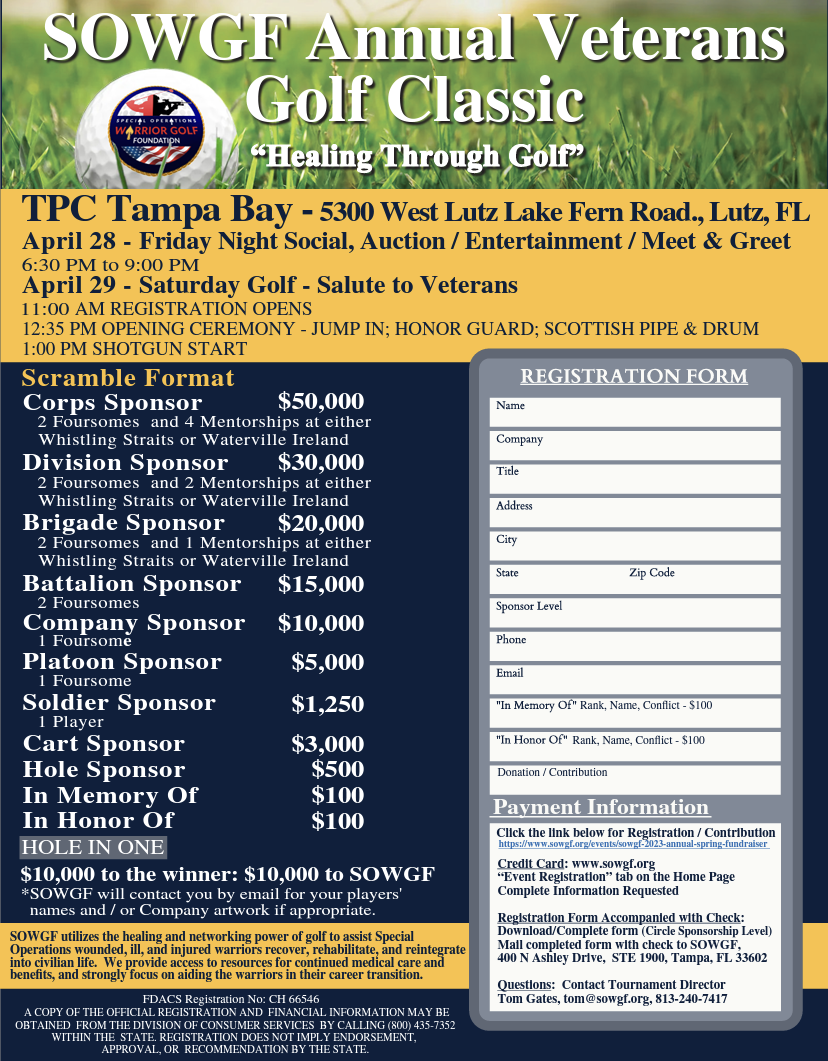 SOWGF 2023  Annual Veterans Golf Classic
TO:         Friends of SOWGF
NOTE: 50/50 WINNING TICKET NO: 4523059
FROM:   Thomas G. Gates, Co-Founder, Vice-Chairman, and Tournament Director
VENUE:  Special Operations Warrior Golf Foundation will hold its SOWGF Annual Veterans Golf Classic at TPC Tampa Bay on April 28 & 29, 2023.
AGENDA: On Friday, April 28 SOWGF will host a Pre-Tournament Friday Night Social at the TPC Clubhouse from 6:30 PM to 9:00 PM.  This is a Meet and Greet event which will include drinks and oer d'oeuvres (no-host bar), an auction, and entertainment.  On Saturday, April 29 our Salute to Veterans golf tournament will be played in a scramble format on the highly rated TPC Tampa Bay Course. The schedule for the tournament is:
11:00 AM Registration/Check in Opens
12:30 PM Opening Ceremony – Jump In, Honor Guard and Scottish Pipe and Drum
1:00 PM Shotgun Start
REGISTRATION:  Online Registration is open for teams and sponsors and a flyer summarizing the Sponsor Levels is available on our website along with a registration form.  The event will be limited to 22 foursomes (88 players), so please sign up early. You may request a celebrity or SOF Warrior as one of the four players in your foursome, leaving 3 spots for you to fill. If you have any questions, please direct them to our Tournament Director, Tom Gates at tom@sowgf.org. NOTE: WINNING 50/50 TICKET NO. 4523059
NOTE:  If you cannot attend due to a date conflict or just simply want to make a donation, please do so by using our Donate Page.  Please be assured that SOWGF and our participating SOF warriors appreciate anything you can do. WINNING 50/50 TICKET #4523059 
FDACS REGISTRATION NO. CH66546
A COPY OF THE OFFICIAL REGISTRATION AND FINANCIAL INFORMATION MAY BE OBTAINED FROM THE DIVISION OF CONSUMER SERVICES BY CALLING (800) 435-7352 WITHIN THE STATE. REGISTRATION DOES NOT IMPLY ENDORSEMENT, APPROVAL, OR RECOMMENDATION BY THE STATE.