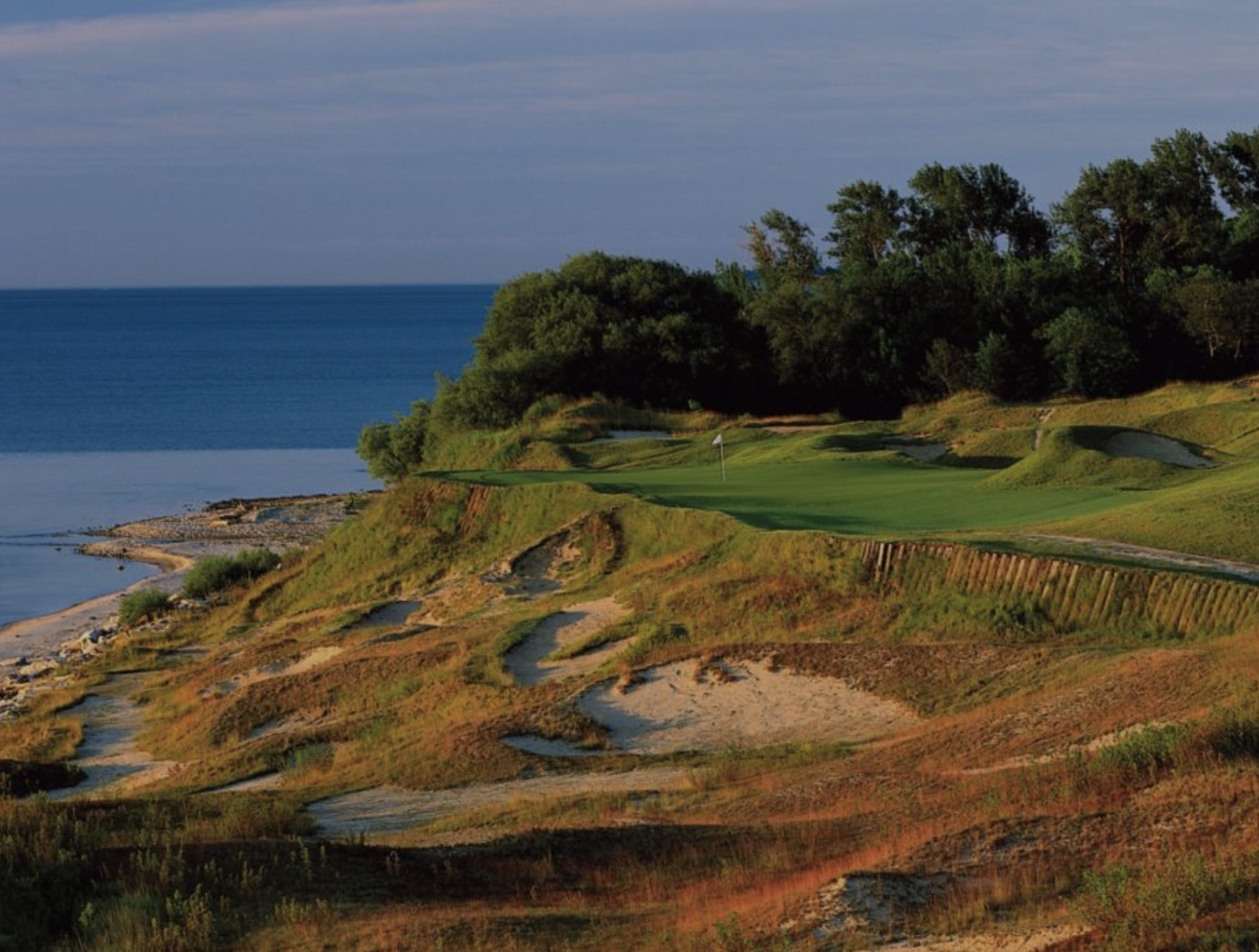 SOWGF Whistling Straits 2023 Retreat
SOWGF has scheduled its Spring 2023 Retreat to be held at Whistling Straits Golf Course located in Kohler, Wisconsin from May 7 to May 12.  Whistling Straits is made up of two links-style courses: the rugged lakeside Straits Course and the more inland grassland and dunes Irish Course.  The Straits Course most recently hosted the PGA Championship in 2004, 2010 and 2015, the U.S. Senior Open in 2007, and the 43rd Ryder Cup in 2021.  It is currently recognized by Golf Digest as one of the World's Top 100 Golf Courses.  We will be spending our first three full days of the retreat at Whistling Straits Golf Club and Blackwolf Run Golf Club (Blackwolf Run is another Kohler Property that houses the Golf Academy, Par 3 Course and putting course, and the Meadow Valleys 18 hole Course).  SOWGF is most grateful to Kohler Properties and Whistling Straits for making it possible for our SOF wounded warriors and Mentors to experience this highly rated and historic venue. 
On our final day we will be travelling to the Erin Hills Golf Course, another historic venue located in Erin, Wisconsin  that hosted the US Amateur Championship in 2011 and the US Open in 2017.  We will be staying on the property and having our closing dinner on site.
Our preliminary schedule includes the following:
May 7 (Sun) —  Travel to Whistling Straits
May 8 (Mon) — Morning: PGA Pro Instruction and Clinic at the Kohler Golf Academy located at Blackwolf Run
Afternoon:   Golf at Blackwolf Run on The Baths Course (a 10 hole Par 3 course and 18-27 hole putting course)
Evening:  (5:30 PM) Group Meeting at Blaclwolf Run Patio with Dinner (7:00 PM) at Blackwolf Run Restaurant
May 9 (Tue) —  Morning:    Golf (18 Holes) on the Irish Course
Afternoon:  Golf  at Blackwolf Run on the Meadow Valleys Course (a Pete Dye designed course that hosted the 1998 & 2012 Women's US Open)
Evening:   Group Meeting (5:30) at Inn on Woodlakes Fire Pits with Dinner (7:30) at Taverne on Woodlake
May 10 (Wed)   Morning:     Golf (18 Holes) on the Straits Course (Walking Only)
Afternoon:   Group Meeting (4;00 PM to 6:00 PM)  Ryder Cup Locker Room–Mentors and Warriors
Evening:      Dinner (6:00) in the Ryder Cup Locker Room
May 11 (Thu)    Morning:     Travel to Erin Hills
Afternoon:   Golf (18 Holes) on the Erin Hills Course (Walking Only)
Evening:      Group Meeting (5:00PM) with Closing Dinner (6:00 PM) at the Erin Hills Clubhouse
May 12 (Fri)      Travel Home
NOTE: In addition to the 6-8 participating SOF Warriors, SOWGF is currently recruiting 6-8 members of the business community to serve as mentors and sponsors for our participating SOF Warriors. A Mentor Package requires a $10,000 donation which covers the transportation, lodging, food and golf costs for the Mentor and one Warrior. If you are interested in taking advantage of this unusual opportunity, please provide your contact information on our Contact Us page or email it directly to info@sowgf.org or art.welhoelter@sowgf.org.